Monday afternoon after work, Skylar, Faith and I went to check out a potential space for HackRVA.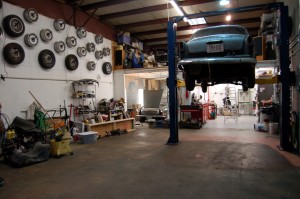 We started out by meeting my friends Lawrence and Billy at their shop to check out adjacent empty industrial spaces.  Lawrence's shop is awesome, and they do great work. Check them out if you ever need work done on your car. We hung out for a little bit, I checked out that Volvo 122 on the lift, then we got down to the hackerspace business.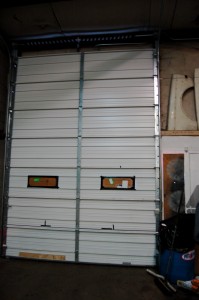 Each of the places that we were looking at are out in Ashland, near the Atlee exit on 95. Lawrence rents two of the shops, so he showed us around the others. They all have similar size and rent (except the largest one), although some may have some lofted space already built in them. The floors downstairs are concrete, easy to clean and great for working on without having to worry about messing up the carpet. If we lofted a second floor, we would end up with about 3,000 sq. ft. of space (1500 workspace, 1500 finished living/conference space) for around 750/month with utilities. Completely doable if we can get the membership to support it. Shown above are the giant loading doors, which will be great for getting large projects in and out of the workspace.
Lawrence's storage shop, complete with unfinished office area lofted above the entrance.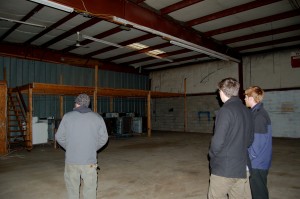 A double width space with loft area to the left. This spot is huge, although it costs twice as much as one of the smaller ones.
Right half of the double width shop.
As you can probably see, these spaces are hard to beat in terms of space/price. They're about 15/20 minutes from downtown Richmond, but as a starting space, they might be worth it. In the coming weeks, we'll be checking out more spots. I'll keep everyone posted. Any suggestions on locations you think would be suitable for our hackerspace would be greatly appreciated.
(All photos courtesy of Faith Broache)